Perfume's very first lyric video "Hold Your Hand" was recently unveiled.
This lyric video (short ver.) was created with the hands of all staffs and parties
involved with Perfume and are working hard as team Perfume.
To complete the full version of this video, we want to borrow the hands of our fans
who always send us warm love and support.
Everyone from Japan and from around the world, please write the letters
on your hands, in any color you want and send us the photos!!

[Lyric Video] Perfume 「Hold Your Hand」 (short ver.)
Submission of photos has been closed. Thank you for all your entries!!
*To enter, you must obtain the consent of the author and/or the person being photographed before sending the photo. Enter after reading carefully all the information on this page.
*1 entry per person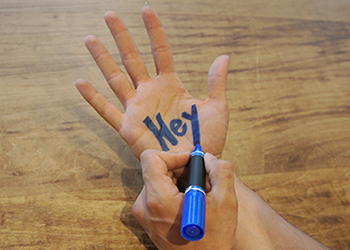 *Pick a letter from the list of letters and write it BIG on your palm.
*The letter may be in any color.



Submission of photos has been closed.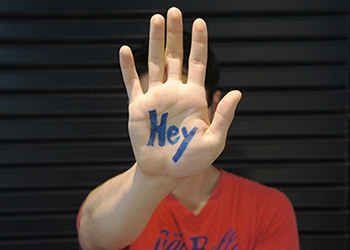 *Place your hand(s) in the center of the photo and make sure that the face is not distinguishable.
*Photos with images of other person or character in the background will be disqualified.
*File format: JPEG (.jpg)
*File size per JPEG: under 3 MB and horizontal
*Letters on the palm must be written horizontally (letters written vertically will be disqualified)


Thank you for your entries!
We will post the Full ver. Video here so we hope you look forward to it and check back!
*The photos must be submitted in JPEG file format. (all other formats including printed photos, etc. will be disqualified.)
*The photos may be trimmed or colors may be retouched when editing the lyric video.

*Photos submitted will be used for Perfume "Hold Your Hand" lyric video. The photos may be also used during Perfume shows.
*Due to the limit of photos which can be used on the video, not all photos will be featured.
*Lyric video will be posted on Perfume official YouTube channel and it may also be broadcasted on TV. The video may later be commercialized on DVD or digital product as well as being used during Perfume's show and for other promotional use within and outside of Japan.

*Entrants under 20 years of age require the permission of a parent or guardian. By submitting the image, entrants under 20 years of age indicate that they have obtained the permission of a parent or guardian.
*Photos which below conditions apply will be disqualified:
- photos which personal information may be tracked down.
- photos which entrants do not own the copyright of the image or have not obtained the permission from the owner. Photos including characters or copyrights owned by a third party.
- photos which may conflict with third party rights such as defamation of character, reliability and/or privacy.
- photos with obscene image, pornography, abuse, discrimination and/or illegal drugs as well as related expressions.
- photos which may conflict with public order and standards of decency.
- photos with any commercial purpose.
- photos with any religious messages and/or promotional purpose.
- photos supporting specific political party and/or promotional purpose.
- photos which may conflict with Japanese law.
- photos which we find inadequate.
- photos that have formerly been displayed, exhibited and/or commercialized or currently underway.
*Entrants will not be notified regarding the usage of their photo on the video. Organizer will not be available to answer any inquiries regarding the usage of the photo on the video. Please wait and check the completed video for result.
*Organizer will not be held responsible to return or delete photos upon request by entrant or a third party.
*Photo should be owned by the entrant or properly obtain consent from the author under the terms and conditions stated herein before submitting. If the photos require consent from third party, it is solely the responsibility of the entrant to do so. Organizer takes no responsibility.
*By submitting your image, you grant Universal Music LLC (hereafter referred to as "organizer") the non-exclusive right to reproduce it for any purpose at any time in any media with attribution.
Organizer holds the copyright for the photos submitted. Photos may be deleted, retouched or altered in anyway by the organizer without obtaining consent of the entrant or without further compensation. Entrant will not exercise their personal right against the organizer.
*Organizer will not be held responsible for costs incurred from the entry and submission of the photos.
*Organizer will not be held responsible for any copyright conflict and/or other conflict risen between the entrant and third party regarding the submitted photos. It is entrant's sole responsibility to settle the dispute. In case entrant's conflict and/or dispute causes damage to the organizer, the entrant will be held responsible for the compensation.

[Privacy protection / operation policy]
Any personal information organizer acquired from this event will be protected under the privacy protection law of Japan. For more information on Universal Music LLC privacy protection policy, please visit here.
Universal Music LLC (※PC Site)

For more information visit:http://www.universal-music.co.jp/faq/