2013.08.19Charity Collaboration Song "Come Together ~Don't Forget" performed at "Junior Leaders Summit"
One of the action plans presented by Fukushima's students "to make a reconstruction charity song with AI" is now completed!
 
This song "Come Together" was formerly a theme song for "Junior Leaders
Summit"(http://www.send-to2050.jp/)
written in English lyrics. Through the activities of AI SUMMIT and the action plans, students put their feelings into their individual lyrics in Japanese and AI bringing the pieces together to make this new song with new lyrics.

Download starts from August 21st.
Part of the proceeds will be donated for reconstruction of Fukushima.

"Come Together ~Don't Forget"
Download starts August 21st (PC/MOBILE/SMART PHONE)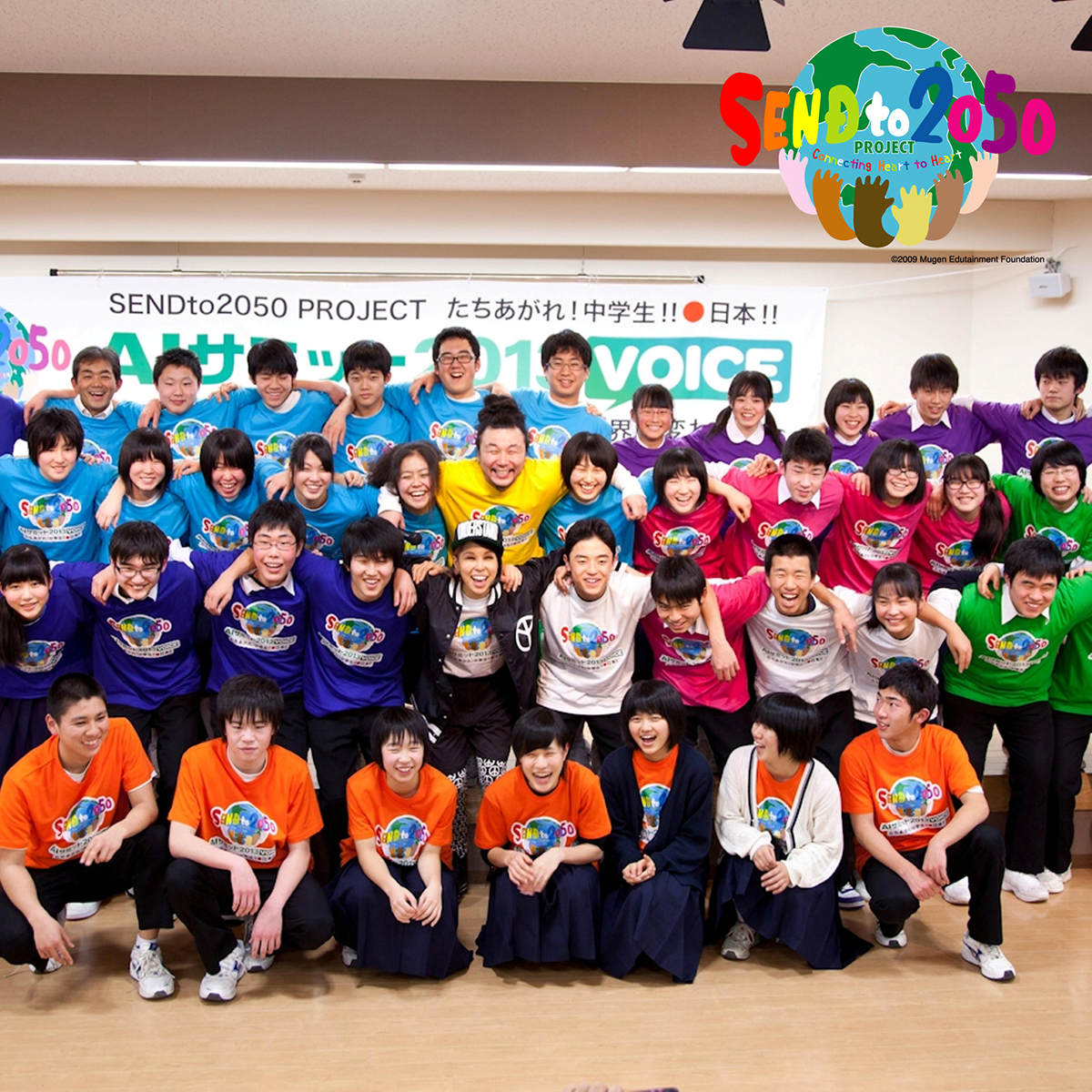 2013.08.02AI SUMMIT Collaboration Goods release event held on AUG 17th @SHIBUYA109
AI SUMMIT's action plan "Charity T-shirts and Mask Project",GYDA and gonoturn items will be sold from August 17th at SHIBUYA109!
At the release event, there will be held a special photo & handshake event with AI for Collaboration goods purchasers!
Numbered tickets will be handed out to those who have purchased the particular items.
Don't miss this chance!

AUG, 17th (SAT)
PRICE:3,980YEN(tax include)
Items (Numbered tickets) will be sold from 10:00~
SALES SHOP: GYDA / 3rd by VANQUISH
PHOTO & HANDSHAKE EVENT
17:00~17:30(GYDA,AI&GYDA Producer Yuria Kushido)
17:30~18:00(3rd by VANQUISH)
※Numbered tickets are limited and will stop the distribution as soon as they run out. Ticket is limited to one per customer.
※PHOTO will be taken by Polaroid Camera.
※Presents will be collected in the present box.
※Please be noted press cameras will be at the event.

2013.07.23"AI SUMMIT first Charity T-shirts now on sale!
One of AI SUMMIT's action plan "Charity T-shirts and Mask Project" is now on track and made their memorable first sales with NARUMIYA INTERNATIONAL.
On July 20th at Harajuku Takeshita Street, AI and the students from Horai junior high made their first memorable sales at NARUMIYA's brand shop "LOVETOXIC".
This charity T-shirt was made by AI and the students actually printing it at Fukushima's T-shirt print factory, a T-shirt with full of emotions.
After releasing their first T-shirt, AI and the student representative commented.
AI "I'm so happy that we've finally made and realized our first step of selling the Charity T-shirt! A lot of customers bought our T-shirt and made our best start, thanks to everyone. Hope everyone's mind can change and share these minds to one another. The most important is to enjoy this activity!"
Student Representative "We made the first step and are glad that we've made it here.The idea we've made from scrap has now became this far and is a dream come true for us.Our goal is for everyone to have the correct knowledge about Fukushima and want as many people to come visit Fukushima!"
The part of sales will be donated to an organization for educating kids from the disaster areas.
Other apparel brands now collaborating and supporting for AI SUMMIT (GYDA,gonoturn) also starts their charity item sales so don't miss it!
【Charity Item Sales Info.】
■NARMIYA INTERNATIONAL T-shirt
PRICE:1,200YEN(tax include)
SALES DATE:JULY 20th (SAT)plan
SALES:LOVETOXIC shops
RESERVATION:NARUMIYA ONLINE
SIZE:M(150cm)、L(160cm)、ADULT(F)total of 3 sizes
■GYDA T-shirt
PRICE:3,980YEN(tax include)
SALES DATE:AUG 17th(SAT)
(GYDA online reservation 7/27~)
SALES:RUNWAY CHANNEL & GYDA shops
RESERVATION:GYDA
SIZE:MEN'S,LADIES both free size
■gonoturn mask
PRICE; 1,575YEN(tax include)
SALES DATE:AUG 24th plan
SALES:gonoturn shops 
RESERVATION:gonoturn
<AI SUMMIT EVENT Info.>
8/17(SUN) 17:00~  AI&GYDA&3rd by VANQUISH(gonoturn) Event at Shibuya 109!

2013.06.20"AI performing at "LOVE FOR NIPPON" event and held the "AI SUMMIT" Booth!
AI, who is now supporting for Tohoku's reconstruction with the Tohoku students through "AI Summit", participated in "LOVE FOR NIPPON" event on June 16th.

At the event, I held the "AI Summit" booth introducing the project actions and also selling sample clothes from 3 apparel company who are now supporting for the charity T-shirt project. All proceeds were donated to LOVE FOR NIPPON association for reconstruction support.

At the event, AI performed "Dear Mama" and "HAPPINESS" showing her love and care to the audience and to the charity event. After the performance, AI had a talk show with the event's host CANDLE JUNE.
They discussed seriously over reconstruction and how important is to make actions step by step.

2013.05.13"AI Summit T-shirt & Mask Project just started!
"AI Summit", for Fukushima's reconstruction and the realization for Fukushima student's action plans has now started with the T-shirt & Mask Project! The below 3 companies have announced their participation and cooperation for this project.

●ceno(gonoturn)
・Participating with the popular mask brand "gonoturn".
http://gonoturn.com

●NARUMIYA INTERNATIONAL
Participating by "FAN PROJECT" combining the initials of "Fukushima, AI, and NARUMIYA.
Plan to manufacture T-shirts in Fukushima's factory with AI and NARUMIYA by hand press.
http://www.narumiya-net.co.jp/

●MARK STYLER(GYDA)
Participating with men's & lady's T-shirt from their brand "GYDA" produced by Yulia Kushido.
http://gyda.jp/

3students from Hourai junior high school visited Tokyo for their kick of meeting with brand designers and producers for designing.
Students started with exchanging opinions with the body, colors, and designs.
After the meeting, AI commented "We are gonna put all our thoughts and messages into it. Can't wait for the completion!"
These T-shirts and masks are planned to be released this Summer!


2013.02.27"AI SUMMIT Exhibition" in Yokohama from 3/1~31
After "AI SUMMIT 2013~VOICE~" great success,AI will move to her next action which is "AI SUMMIT Exhibition" held in Yokohama from March 1st to 31st.
Action plans discussed at AI Summit by the students will be displayed in "Brilla SHORT SHORT THEATRE"(http://www.Brillia-SST.jp/)in Yokohama.
Documentary Film "STAND UP"(Story about junior high students in Fukushima challenging towards reconstruction) which was the first trigger leading us to this whole AI SUMMIT project will be screened at the theatre, along with other Films under the theme of "VOICE".

2013.02.06AI SUMMIT 2013~VOICE~ in session this weekend Feb 8th(FRI)!
AI has been supporting the Tohoku-area constantly after 3.11 earthquake.
"AI SUMMIT 2013 ~VOICE~", this summit started from a documentary film about students in Tohoku trying to overcome their hard situations.
AI thought, "It would be a great opportunity for everyone to set a summit where everyone can discuss and think about Fukushima's future and kids!".
On February 8th this weekend, AI will actually visit Fukushima and support to make specific action plans with 50 students gathered from Fukushima area.
These action plans will be shared on this website later.
Your support and message are greatly welcomed!!!

2013.01.16AI SUMMIT2013 site opening!